Legal Templates and Resources for natural health practitioners.
Let us improve the health of your legals, so you can improve the health of your clients.
Legally Healthy is your one stop shop for DIY legal templates, custom legal services and free resources.
If you're a small to medium sized health and wellness business located in Australia or New Zealand, you've come to the right place.
Legal Consulting
Services
Free Resources for
Health Professionals
Why your business needs Legally Healthy

Protect confidentiality and your intellectual property.

Set clear and strong boundaries

Educate your clients about how to work with you.

Reduce misunderstandings and unrealistic expectations

Resolve disputes and problems peacefully.

Limit your liability in case things do go wrong.

Create clear and consistent business policies

Feel confident that you have solid legal foundations.

Minimise your legal risk so you can focus on what you do best

Add a personal touch to your legal policies and procedures

Stand out from other practitioners by looking more professional and trustworthy to clients
Not sure where to start? Browse our range of affordable legal templates and packages. We've done the hard work for you! All you need to do is pick the template or package you need, use our guides to personalise to suit your business, and you're good to go! Confident, protected, ready to heal the world one client at a time!
A policy document setting out how your business collects, uses, discloses, shares and stores personal information.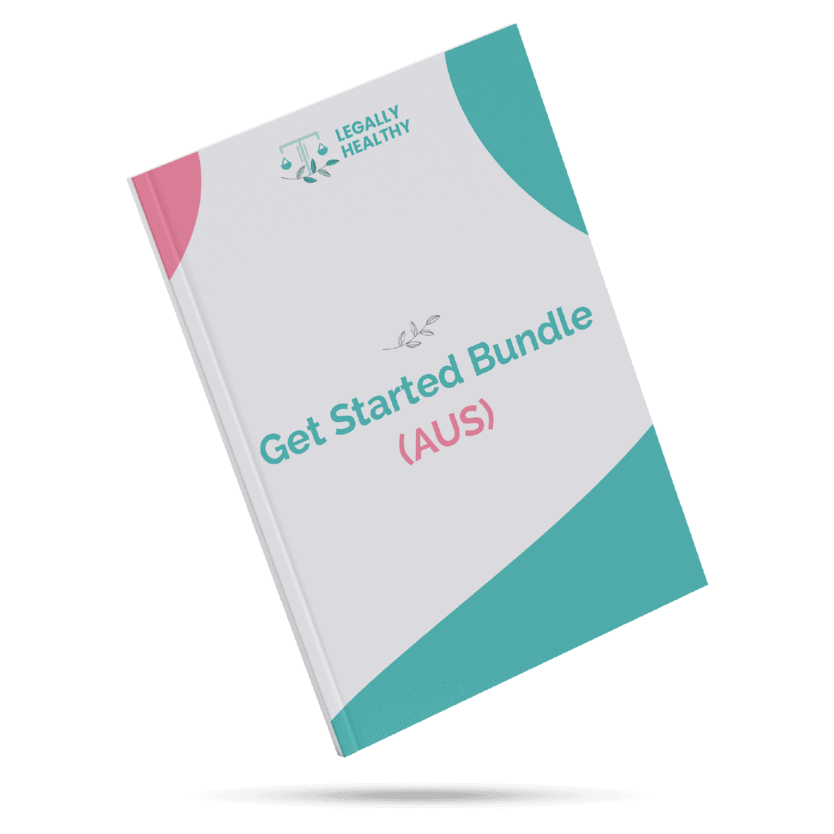 A collection of essential legal templates for sole practitioners and small to medium sized health businesses.

I purchased a legal template package from Legally Healthy for my naturopathic business, Skincare Academy. I found the template package to be very informative and practical. I really appreciated the ability to customise the templates, and after completing them I felt confident that the legal side of my business had been set up correctly. In addition to buying the templates, I reached out to Chantel regarding some legal queries I had about my business and found her to be very informative, helpful, and easy to communicate with. I recommend the Legally Healthy templates to any health practitioner (especially naturopaths) looking to get the legal side of their business set up appropriately in an affordable , succinct, and organised manner. I also highly recommend Chantel – she is amazing and my go-to for legal enquiries and information. Chantel is a wealth of knowledge and a naturopath, genuinely wanting the best for other naturopaths so they can be the most professional practitioners.
Hayley Barnes - April 2022
Naturopath and Owner of Skincare Academy

I first met Chantel in 2019 when she came to do the Naturopath Mentoring Program at my clinic in Bargara, Queensland. When she told me she was also a business lawyer, we discussed how naturopaths often don't have their legals in place and were putting themselves at risk. I encouraged her to use her legal skills to put together a legal template package for practitioners, which later became the Legally Healthy Package! Chantel has now expanded her Legally Healthy business to include a range of individual templates and bundles so practitioners can pick and choose what they need. Given the nature of our work, I believe every natural health practitioner needs robust legals in place and should buy these templates as they are an affordable way to ensure they are protected. They are also drafted by someone who is a practitioner herself and understands the nuances of our industry . I think if all practitioners have their legal documents in place, it also makes our industry look more professional. I highly recommend everyone check out Legally Healthy!
Rebecca Lang - May 2022
Naturopath, Nutritionist, Herbalist and Mentor

As an accountant for natural health practitioners, I always talk about the importance of having your numbers up to date – but what about your legals? It's something often overlooked by so many practitioners. Getting your legals right from the start is so important and that's why I think that Chantel Ryan's Legally Healthy templates and bundles are fantastic, for both established and new practitioners. As a customer myself, I have found the templates easy to use and comprehensive. The fact they are drafted by an experienced lawyer (Chantel) who is also a practitioner, means you know you are covered. I highly recommend Legally Healthy – in my opinion getting your legals right is just as important as getting your tax done.
Victoria Brennan - Jan 2021
CustomerNaturopath And Accountant
Owner -Numbers for Health
I'm an Australian business lawyer with over 15 years experience and the founder of Legally Healthy. I'm also a qualified naturopath, wellness coach and business owner. When I graduated from naturopathy in 2018 and started my clinic, I talked to lots of health practitioners who had no idea what legal documents they should have in place, or how to go about it. I realised I was in a unique position to help so I created Legally Healthy –a collection of affordable templates and resources designed specifically for businesses and entrepreneurs in the health and wellness space. I've done the hard work for you, so you can continue to build your empire, knowing you're covered.
We are committed to helping you keep your business #legallyhealthy so you can do what you do best – heal your clients. Sign up and receive 10% off your first purchase!